One significant issue on homebuyers' minds this year is: why is it so difficult to find a house to buy? The truth is that we're in the midst of the ultimate sellers' market, which means that buying real estate is extremely difficult right now. The number of purchasers looking for a home far outnumbers the quantity of residences for sale. Low inventory in the housing market isn't new, but it's a problem that's only getting worse. Here are two reasons why housing supply is now low, as well as what this means for you.
1. For a number of years, new home construction lagged behind.
The graph below depicts new single-family home development during the last five decades, as well as the long-term average for housing units completed. During the housing bubble, builders outperformed the average (shown in red on the graph). As a result of the surplus of properties on the market, property prices have fallen. One of the elements that contributed to the housing meltdown in 2008 was this.
Since then, the number of new homes built has decreased. Builders haven't been able to build enough homes to satisfy the historical norm for the past 13 years (as illustrated in green on the graph). We had a multi-year inventory shortfall heading into the pandemic as a result of the underbuilding.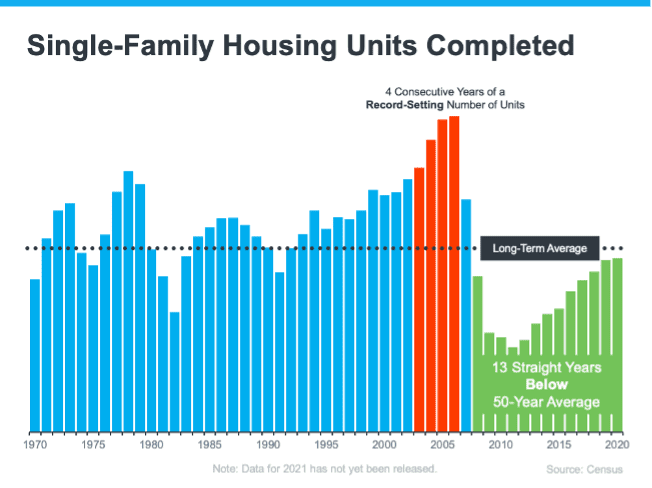 2. The Pandemic's Impact on the Housing Market
When the pandemic struck, it reawakened a renewed respect for and focus on what it means to be at home. For Americans around the country, having a safe place to live, work, go to school, and exercise has become increasingly crucial. As mortgage rates fell to around or below 3%, purchasers rushed into the market, hoping to take advantage of the cheap rates and secure a property that met their shifting needs. At the same time, as fears about the pandemic grew, sellers were hesitant to put their homes on the market. What's the end result? The number of residences for sale has decreased even more.
So, what does it all mean for you?
Low inventory can be difficult for a buyer. You don't want to settle for anything less than the home of your dreams. But what if there aren't enough houses to go around? There's some positive news to report. Due to sellers re-entering the market, experts predict that additional properties will become available soon.
Realtor.com's Chief Economist, Danielle Hale, shares this optimism but adds some context:
"We expect that we'll start to see a turnaround and inventory will stabilize and start to go up a little bit in 2022. . . . But that means we're looking at inventory levels of roughly half of what we saw before the pandemic. For buyers, the market is likely to continue to move fast. If you see a home you like, you want to jump on it right away."
Basically, despite the fact that more homes are being built, inventory remains low. However, you should not put your plans on hold while you wait for those extra houses to become available. Instead, persevere with your search despite today's low inventory. If you're patient and dedicated, you can discover your future house. Keep in mind your objectives and why selecting a home is so crucial. Those factors should be at the forefront of your quest. Share them with your agent, and make sure you're on the same page regarding your priorities. As you negotiate today's short housing supply to find the home of your dreams, your trusted advisor will be your greatest ally.
Conclusion
Given today's low inventory, patience will be the key to success if you plan to buy this year. Let's meet to talk about what's going on in our neighborhood, what homes are available, and why it's still worthwhile to put your home search on hold right now.