Trying to guess what will happen in the real estate market is notoriously hard as the last two years have shown. Still, we keep doing it, so here we go again! Please note the difference in the national and local predictions. Never forget – real estate is hyperlocal!
National Real Estate Market Predictions for 2023
Fears of a possible recession have led a lot of experts and analysts to say that real estate prices will start to go down in 2023. Since mortgage rates are going up, economists think home prices should go down even more.
The CoreLogic S&P Case-Shiller Index, which looks at how prices of single-family homes change over time, predicts that annual price growth will reach 8% in December and then drop to 0% in early 2023. If this happens, it would mean that home prices would stop growing. From there, we'll have to keep an eye on how real estate sales change to figure out how big and how fast the correction is.
Between 2006 and 2012, when the last housing market correction happened, home prices fell by 27%. This time, however, the situation is very different because the job market is strong and there aren't as many homes for sale. Redfin has recently made its predictions for 2023. I am going to touch on a few of them.
Home sales will drop to their lowest level since 2011
Redfin thinks that there will be 16% fewer sales of existing homes in 2023 than in 2022. This prediction is based on the fact that high mortgage rates, high home prices, and a possible recession could make it hard for people to buy homes. People won't be as eager to move as they were when interest rates were very low during the pandemic.
Mortgage rates will go down
Redfin thinks that mortgage rates could go down from about 6.5% to 5.8%. If this happens, a person who buys a $400,000 home would save about $150 a month on their mortgage payments.
Real estate prices will decrease
Redfin thinks that real estate prices will go down for the first time in more than a decade, by about 4%. This would make the median price of a home go down to $368,000. But it's also important to note that even if housing prices go down by 4%, the average home will still cost more than it did before the pandemic in 2019.
The only thing that could stop home prices from going down more is fewer new listings. If this trend continues, the number of houses for sale would stay near a historic low.
Washington DC Metro Real Estate Market Predictions for 2023
During the second half of 2022, the market for homes in the DC area slowed down a lot. Both buyers and sellers are holding back because of rising mortgage rates and economic uncertainty. This has caused the housing market to slow down a lot in the third and fourth quarters. The market is likely to keep changing all through 2023. But the Washington DC metro area is in a better position than many other U.S. regions to avoid a major market correction.
Home Sales
Bright MLS predicts that there will be about 59,450 home sales in 2022, which is a 25% drop from last year. Higher mortgage rates have hurt buyers' ability to buy and made many potential buyers decide to "wait and see" to see if rates will go down. This is why home sales have gone down.
In 2023, more people will want to buy homes because mortgage rates will be lower and more stable, but fewer people will buy homes than in 2022. There are two main things that will cause the number of home sales to drop in 2023:
1) People who would have bought in 2023 bought earlier to take advantage of historically low mortgage rates, and
2) there won't be many homes for sale, which will slow down sales.
Bright MLS predicts that this year will have the least number of sales since 2015. In the Washington metro area, sales are expected to drop by 4.1% in 2023.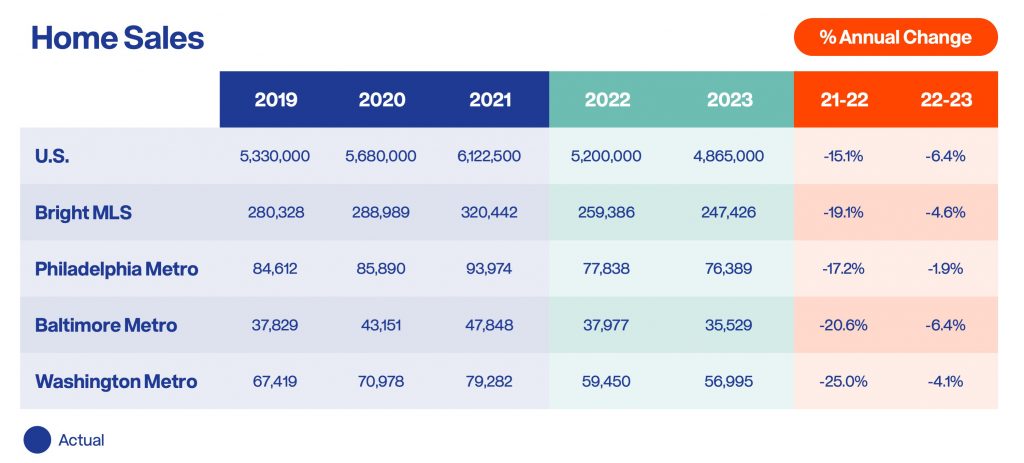 Home Prices
In the DC Metro Area, home prices have risen quickly over the past three years. Between 2019 and 2022, the median price went up by 18%. During the pandemic, prices went up less in this area than they did in many other cities. The median home price went up by 40% across the country. Since home prices did not go up as quickly, there is less chance of big price drops in the Washington, DC Metro area.
Rates will stay around 6% for most of the year, but as 2023 goes on, more buyers will come back to the market. But the number of homes for sale will stay low because many current homeowners are "locked in" to their low rate. Because demand will go up again and there aren't many homes for sale, home prices will stay pretty steady.
Prices will go up a little more in the areas around Metro DC than in the areas farther away. In 2023, the median home price is likely to be 1.1% higher than it was in 2022.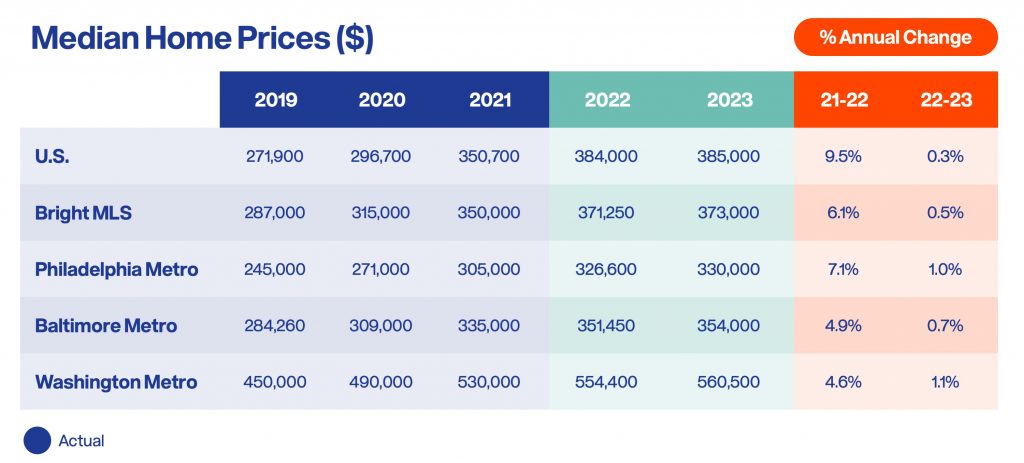 * Bright MLS and Forbes